We all have at least one t-shirt that has "Cali" Written on it or If not California would definitely on your Travel bucket list of travelling. We all wondered is this place really that awesome as it is being hyped around? The answer is Hell Yes. California has some of the Amazing places that are too awesome to be missed. Here we present you with 17 Totally Surreal Places In California You Have To See Before You Die.
1. 
Mono Lake.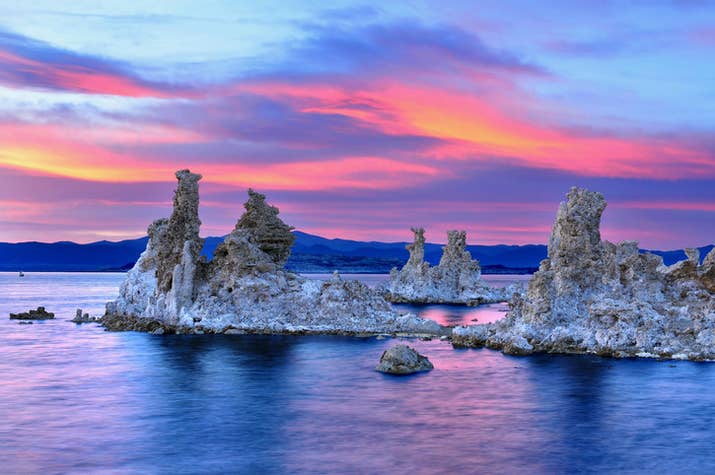 Isn't it an absolute beauty? The ancient saline lake covers 70 square miles and it's too salty for fish population to live and sign up to go for a walk with bae.
2. 
Cypress Tree Tunnel, Point Reyes.
This stunning arch of Monterey cypress trees lies on 45 miles north of Golden Gate Bridge. It gets crowdy on weekends so try to visit on weekdays.
3. 
The Last Bookstore, Los Angeles.
This store has 2,50,000 books stacked both old and new. This is a heaven for book lovers. The Labyrinth is the name of the second floor.
4. 
Sequoia National Park.
No doubt you must have heard of this amazing place. Sequoia offers camping and hell of adventures and cool places to explore.
5.
The Salton Sea.
This straight out of portrait like scenery is in the Sonoran desert, formed when the Colorado River burst through poorly built dams in 1905. Local agriculture did spoil off the lake which led to algae and pollution. California is planning to invest $383 million in rejuvenating the sea with ponds.
6.
Poppy Fields, Antelope Valley.
These eight miles of trail in the Mojave desert is the best place to visit from mid-February and May.
7.
Horsetail Falls, Yosemite National Park.
This 1570-foot waterfall flows in winter and spring and is an absolute feast for eyes to watch. Is it not a perfect outing with bae? I'm sure this place would be so perfect for evening outings and when the sun sets, the water glows like fire.
8.
Los Angeles County Museum of Art.
This place is perfect for Instagram clicks and it has 202 restored cast iron antique street lamps. Make sure you also check out the museum if you are an art lover.
9.
Glass Beach, Fort Bragg.
The proof that nature's amazing, people had dumped all their trash in this and the tides made them into polished treasures. Don't take the glass pebbles home as it's illegal to do so.
10. 
Wave Organ, San Francisco.
This art installation has 25 PVC pipes that produce music when they are being hit by the tides. How cool is that?
11. 
Mystery Spot, Santa Cruz
If you love optical illusions and actual gravity hill then this is where you gotta go.
12. 
Lava Beds National Monument.
Look at this beauty! Lava Beds National Monument has more than 700 caves which make it one of the must-visit places in California.
13.
Big Sur.
Hike or Camp or a long drive, This place is perfect for everything. But do check current closures cause some of the coastlines are closed due to storms.
14. 
Joshua Tree National Park.
Joshua Tree is a must watch place and is awesome for camping. Check out the site to book Campsite or a climbing trip along with your friends.
15. 
Monterey Beach.
Yup! This 99 miles coastline is the one that was seen in the series Big White Lies.
16. 
Zabriskie Point, Death Valley.
looking very familiar, isn't it? You might have seen the cover of U2's Joshua Tree LP.
17. 
The Echo Park Time Travel Mart.
One stop destination for all your time travel needs and all the proceedings of this goes for the free tutoring of children at  826LA.